---
1. Bolongo Bay
Located on the south shore of the island at the Bolongo Beach Resort, the beach has not been quite the same since the 2017 hurricanes. But Iggies Oasis poolside  at the resort is a great place to eat, drink and listen to live music. There is sand and surf still and a great ocean view and we hope the beach will be restored to its former glory one day. Plus you can take a sail on Heavenly Days or catch a dive boat off the dock. (#1 on map)

2. Brewer's Bay
You will find it just past the University of the Virgin Islands going west on Route 30. Brewer's Bay is a local family favorite for weekend picnics and gatherings. Visitors can relax in the shallow waters or sunbathe on the wide shore. On weekends there tends to be a lot of activity and loud local music! (#2 on map)

3. Coki Beach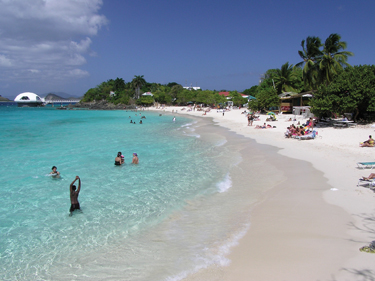 Located on Coki Point right before Coral World Ocean Park, this white sand beach with crystal clear water offers excellent snorkeling and diving. Beachside restaurants serve picnic fare including burgers, sandwiches and some local dishes. There is a dive shop, jet ski rental and several vendors renting snorkel gear, beach chairs and floats. (#3 on map)

4. Hull Bay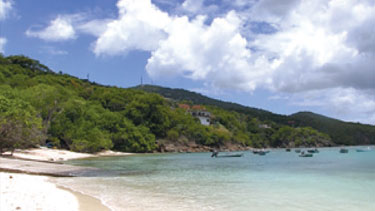 A favorite northside beach for local families and surfers. It offers the best surfing on St. Thomas when there is a north swell but the locals are very protective so be aware. Hull Bay Hideaway restaurant and bar is located just behind the beach. Plenty of parking. (#4 on map)

5. Lindbergh Bay
Named after the famous aviator who landed nearby in 1928, this tranquil bay is flanked by three hotels, palm trees and sea grapes that line the shore. Located on the airport road. (#5 on map)

6. Lindquist Beach
One of St. Thomas's most virginal and pristine beach, Lindquist Beach is situated on the east end of the island. The water is crystal-clear and typically calm. The left side of the beach is great for snorkeling. Owned by the Virgin Islands government it is well maintained and kept clean. There are a few picnic tables but get there early! (#6 on map)

7. Magens Bay
This beautiful one-mile stretch of beach is St. Thomas' most favorite and famous beach and is a public park. The water is usually very calm in this heart-shaped protected bay. Beach chairs and floats are available for rent and burgers, pizzas and other snacks can be found at the snack bar. Picnic tables located all along the beach. Lifeguards are on duty. (#7 on map)

8. Morning Star Beach
Located at what was Frenchman's Reef & Morning Star Marriott Resort, this beach is not accessible just now but will be when the Marriott reopens in late 2020.

9. Sapphire Beach
The sapphire-blue waters here are great for snorkeling, windsurfing, jet skiing and more. The beach is located on the east end at Sapphire Beach Resort. Cool beach bar that often has live music. (#9 on map)

10. Secret Harbour Beach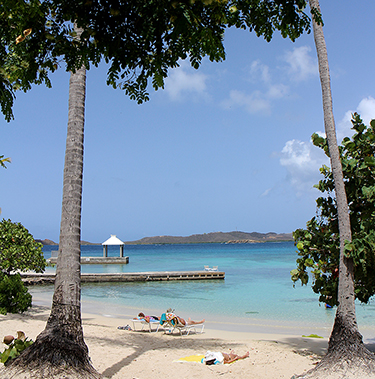 A calm, quiet beach located at Secret Harbour Beach Resort, this beach has a floating swim platform and beach chairs available for rent. There is a dive company right on the beach. Also a restaurant and bar. (#10 on map)

11. Limetree Beach
There is often a bit of gentle surf on this beach. It is a bit rocky as you enter the water so tread carefully. Limetree is usually very quiet with not too many people around.  (#11 on map)

12. Vessup Beach
A local favorite on the weekends for parties with loud music. Good time to go is during the week when it is very empty and peaceful. There is a watersports hut there that rents out sailboats, SUPs (Stand Up Paddle Boards), windsurfers and other fun water toys. The long stretch of beach is great for taking a leisurely stroll and the water is nice for swimming. (#12 on map)

13. Dorothea Beach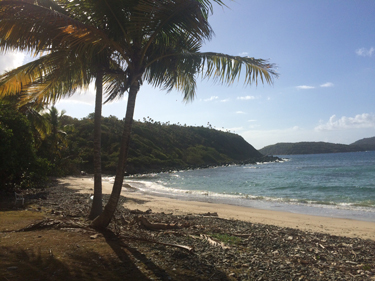 This is a very natural beach … no amenities, bars or restaurants. The Dorothea condominiums are located there in the flat area behind the beach. Being a northside beach, it can be rough during the winter with some big swells and currents that can push you towards the rocks. There is some great snorkeling there. (#13 on map)


Visit our Video Page to see footage of some of these magnificent beaches.
What is your favorite beach on St Thomas?
Comment below.